This is the second musical setting I've posted recently for the ancient Eucharistic hymn Ave Verum Corpus, "Hail True Body". A couple weeks ago we saw Mozart's rendition; today we're going back a couple centuries earlier to William Byrd's version of the hymn. Speaking of William Byrd, you might remember that he was one of the models for 20th Century composer Gustav Holst, whose setting for the Nunc Dimittis was our Music Monday selection last week.
Byrd, who lived from 1543 – 1623, was one of most highly regarded composers of the renaissance era. He lived during a time of religious turmoil in England, particularly for Catholics, who faced increasing persecution under Queen Elizabeth I. Byrd was already well-established as a composer and musician and a Gentleman of the queen's Chapel Royal when he converted to Catholicism in the 1570's. Many of his compositions afterwards took on a decidedly Catholic character, including liturgical music and and other compositions on biblical themes. Byrd often touched on the Babylonian exile and captivity in Egypt as a way of encouraging oppressed English Catholics.
The Verum Corpus, "True Body", refers to the Real Presence of Christ in the Eucharist. Byrd published the composition in 1605. The hymn is beautifully sung by the choir of St. Matthews Church in Westminster, England. St. Matthews is an Anglican Church "in the Catholic tradition of the Church of England", according to their website (as an aside, they might want to look into where that particular combination led John Henry Newman).
Another aside: I had hoped to post a video I put together myself featuring sacred art on the theme of the Eucharist, but I ran into insurmountable issues. I'm posting a link to my video underneath, and I may publish something about it later in the week, if anyone is interested.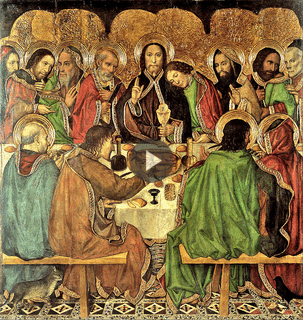 Check out this video: https://share.vidyard.com/watch/MthhXqnPoRmadU6hGp7Hok?
Sung by: The Gesualdo Six at Ely Cathedral
Art: "The Last Supper" Jaume Huguet 1463″ Christ on the Cross" Eugène Delacroix 1835 "Christ the Savior with the Eucharist" Juan de Vincente Juanes 1445-1450